George, Charlotte and Louis have first day at Lambrook School
The Cambridge "gang" have started a new chapter together, walking hand-in-hand with their parents on the first day at their new school.
Prince George, nine, Princess Charlotte, seven, and Prince Louis, four, are all starting at Lambrook School, in Berkshire, after the family's recent move to Windsor.
For little Louis, in summer uniform, it was his absolute first day at school.
His older siblings previously attended Thomas's Battersea in London.
On the settling-in day, the duke referred to his children as "all the gang", ushering them up the steps of the private school.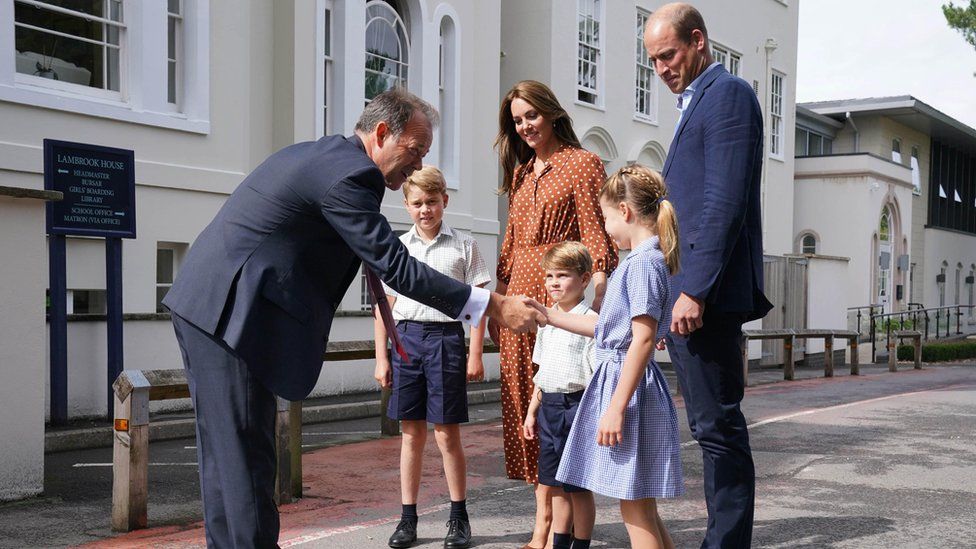 Head administrator Jonathan Perry was available to welcome the youthful royals, shaking every one of them by the hand and saying it was "wonderful to have you with us".
Asked if they were excited, all three replied "yes" and Prince William said they were "all looking forward to it" and had "lots of questions".
The siblings showed no obvious signs of nerves as they walked confidently into Lambrook in the sunshine holding their parents' hands.
Earlier, they had been forced to dodge the showers after pulling up on the school's grounds. Parents arriving later were hit by torrential rain.
As the family strolled towards the school entrance before two cameras, they could be heard giggling and Sovereign William was seen stroking Ruler Louis' hair reassuringly.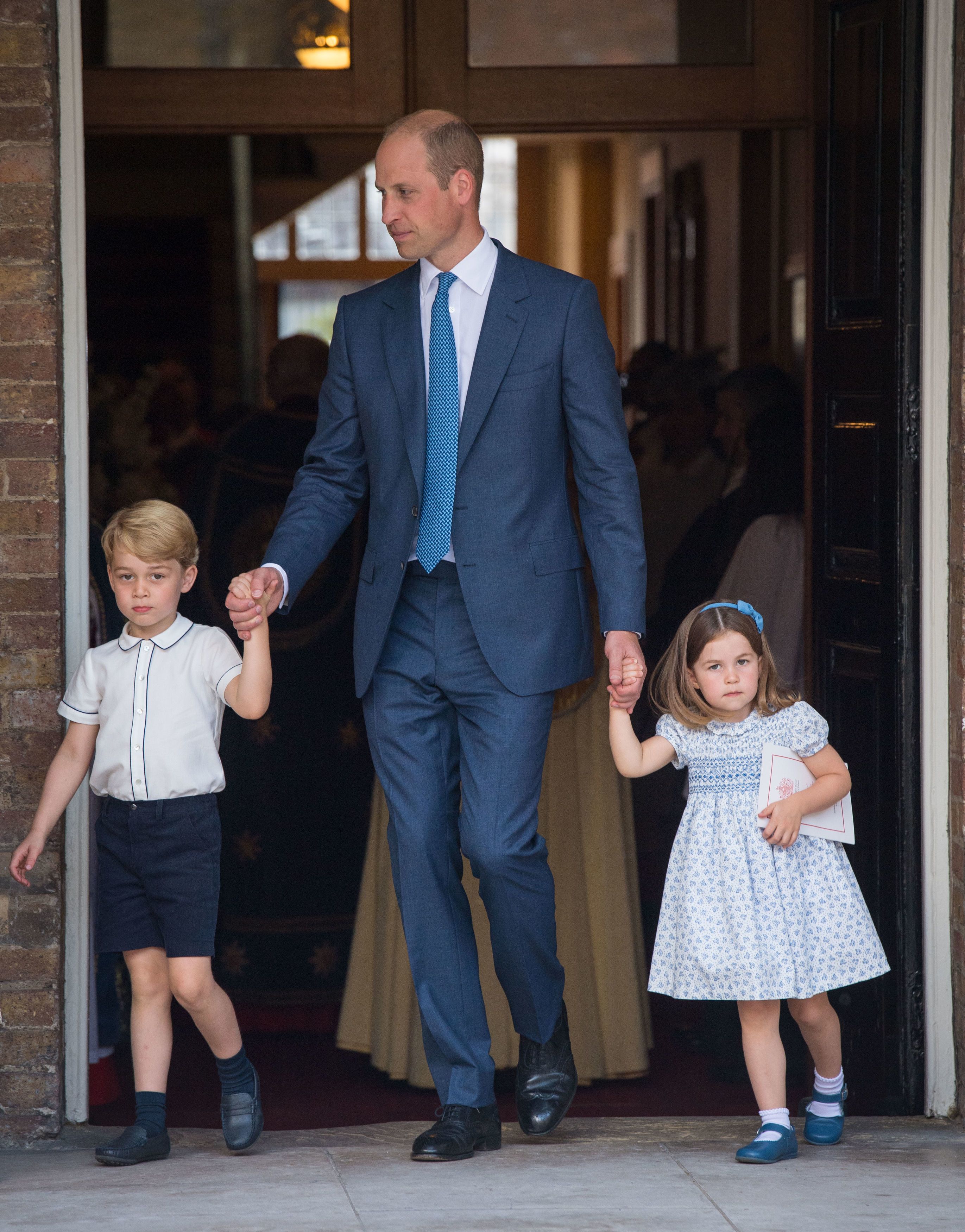 The children's first full day is on Thursday, the official start of term.
This will be a privileged education. Annual fees for all three children will be more than £53,000.
The school sits on 52 acres of Berkshire countryside close to Ascot Racecourse. It has a nine-hole golf course and swimming pool as well as bees, chickens, and pigs for pupils to look after.
Some children are boarders at the school but, for now, the Cambridges will be day pupils.
Princess Charlotte was greeted by one of the teachers at Thomas's Battersea on her first day in 2019
Denoting the first day at school has turned into an imperial soul-changing experience.
Earlier, a single photographer and one TV camera filmed the Cambridge family as they arrived at Lambrook. The footage was then shared across a number of media organizations.
Limiting the number of cameras and journalists is a way of protecting children from public glare. The hope is that a managed glimpse into life at Lambrook will afford the family some privacy at school from now on.
It was totally different when William began school.
In the late-80s and mid-90s, he faced a barrage of cameras as he started nursery and then school, always accompanied by his mother and often his father. To cries of "William" or "Diana", those nervous, first steps into the school were a major media event.
At the point when he began Eton in 1995, cameras were even permitted to follow him as he strolled to his most memorable illustration. Such access just wouldn't occur now. These achievements are as yet recorded yet regal youngsters are not generally as uncovered on these critical days.
Prince William's sister-in-law, the Duchess of Sussex, recently discussed her concerns about her son Archie attending school in the UK during
Meghan said she could never have had the option to get Archie from school in the UK "without it being a regal photograph call with a press pen of 40 individuals snapping pictures" and said that was something she generally disliked.
The Editors' Code of Practice, the rules from the Independent Press Standards Organisation newspapers and magazines follow, prevents photographing children at school.
George, Charlotte, and Louis can stay at Lambrook until they are 13 years old. The school says it aims to create "happy and thoughtful young adults who are global citizens".
Lambrook has some royal history, with two of Queen Victoria's grandsons, Prince Christian Victor and Prince Albert of Schleswig-Holstein, having been pupils.
During their time at the school, Queen Victoria used to travel from Windsor Castle to watch them in plays and cricket matches.