Police identify the body of abducted runner Eliza Fletcher
Police identify the body of abducted runner Eliza Fletcher A body found Monday has been identified as that of a kindergarten teacher who was abducted during an early-morning run last week in Memphis, authorities announced Tuesday.
Eliza Fletcher, 34, who also went by "Liza," was last seen around 4:20 a.m. Friday, running in a pink top and purple shorts near the University of Memphis campus. Surveillance footage captured the mother of two being forced into a black SUV, and as authorities mounted an extensive search over Labor Day weekend, Memphis police said they feared she had suffered "serious injury."
Investigators found Fletcher's body behind a vacant home several miles from where she was abducted. The revelation came a day after the capture of a suspect, Cleotha Abston, who will presently have to deal with murder penalties on top of the hijacking charges at first recorded against him, police said. The 38-year-old had been set free from jail in November 2020 subsequent to serving almost 20 years for a 2000 grabbing.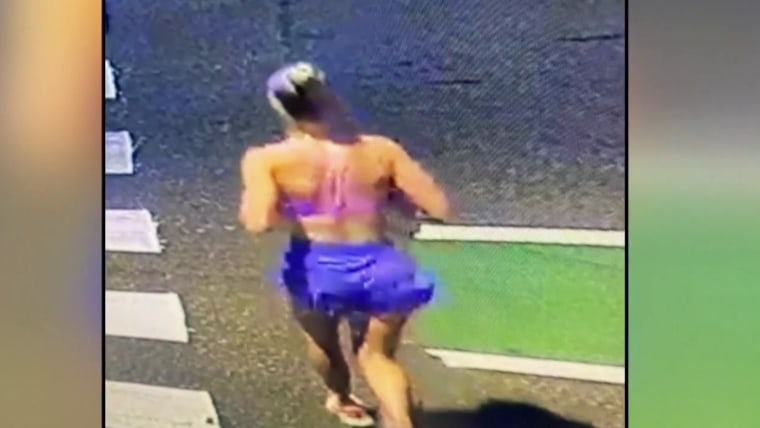 "While the result of this examination isn't what we expected, we are in any case satisfied to eliminate this risky hunter off the roads of Memphis," the city's police boss, Carolyn "C.J." Davis, said during a news meeting. She referred to it as an "extremely miserable day in the city."
The suspect's sibling was likewise captured throughout the end of the week yet was not accepted to be associated with the kidnapping, Memphis police said. Mario Abston, 36, is having to deal with medication and weapons-ownership penalties.
Authorities said it was too early to say whether others would be charged in Fletcher's kidnapping and death. They said they were still determining where and how she was killed, stressing that the investigation is ongoing.
Shelby County District Attorney Steve Mulroy said there was "not a really obvious explanation to think this was something besides a confined assault by an outsider."
In a statement released to local media Tuesday, Fletcher's family said they were "heartbroken and devastated by this senseless loss."
"Liza was such a joy to so many — her family, friends, colleagues, students, parents, members of her Second Presbyterian Church congregation, and everyone who knew her," the family said. "Now it's time to remember and celebrate how special she was and to support those who cared so much for her."
The search for Fletcher began early Friday morning when her husband told police that she had not returned from her regular 4 a.m. run, according to court records filed in Shelby County. At about 6:45 a.m., a bicyclist discovered the missing woman's cellphone along with a pair of Champion sandals in a roadway just outside the college campus.
Specialists found reconnaissance film from the area, which showed a dark GMC Terrain passing and afterward trusting that Fletcher will run by, the sworn statement said. A man moved out of the vehicle, "ran forcefully" toward her, and afterward constrained her into the traveler side of the vehicle. The vehicle waited in the parking area for around four minutes after the lady was pulled inside, and afterward drove away.
"During this abduction," court documents said, "there appeared to be a struggle."
DNA lifted from the sandals linked Cleotha Abston to the kidnapping, and records from his cellphone showed he was in the vicinity at the time Fletcher was forced into the SUV. The owner of a cleaning service confirmed that Abston worked for her company and drove a GMC Terrain.
A Memphis police sergeant found Abston on Saturday evening at an apartment complex, with the SUV in the parking lot outside. Abston tried to get away but was stopped and taken into custody by a team of U.S. marshals, officials said.
Court records said blood was probably left in the car. A lady named Shantel Anthony, whose relationship to Abston was not satisfactory told examiners she saw him around 7:50 a.m. Friday at Mario Abston's home, around seven miles from where Fletcher was grabbed. He was cleaning within the SUV and "acting strangely," court records said.
Mario Abston said he saw his sibling washing his garments in a sink inside the home. He, as well, depicted him as "acting exceptionally bizarre."
Cleotha Abston was charged Tuesday with first-degree murder and first-degree murder in perpetration of kidnapping, along with earlier charges of "especially aggravated kidnapping and tampering with evidence," police said.
More than two decades earlier, he faced another aggravated-kidnapping charge. In that case, the Independent reported, the then-16-year-old and an accomplice abducted Memphis attorney Kemper Durand.
The two constrained Durand into the storage compartment of his vehicle and cruised all over for quite a long time prior to taking him to a service station ATM to burglarize him. He figured out how to escape when he recognized an equipped Memphis Housing Authority watch and shouted out for help, making his attackers run.
"It is quite likely that I would have been killed had I not escaped," Durand said in court documents filed in 2003.
Abston was sentenced in 2001 to 24 years in prison but was released early, according to the Tennessee Department of Correction. He had been out for a little less than two years when, according to police, he encountered Fletcher and targeted her.
Court records state that after his arrest in Friday's kidnapping, he refused to tell authorities where to find Fletcher.
They discovered her body in the tall grass outside an abandoned house about a half-mile from Mario Abston's apartment after noticing vehicle tracks and a smell of decay. Close by was a garbage sack containing purple Lululemon shorts. A legal examination recognized the body as Fletcher's, specialists said.
"To lose someone so young and so vital is a tragedy in and of itself, but to have it happen this way with the senseless act of violence, it's unimaginable," Mulroy said.
Fletcher was a granddaughter of the late Joseph Orgill III, who ran Orgill, a large distributor of hardware and home-improvement supplies. She was an enthusiastic sprinter who instructed the all-young ladies at St. Mary's Episcopal School, which depicted her as a "dearest" junior kindergarten educator.
"This morning our faculty and staff started the day in chapel," the school said in a statement. "We lit candles to remember Liza who was a bright light in our community. Liza encapsulated the tune that we sing consistently in the Early Childhood sanctuary, 'This little light of mine, I will allow it to sparkle.'"