Protester sets fire to his arm during Laver Cup opening session
Protester sets fire to his arm during Laver Cup opening session On the opening day of the Laver Cup at the O2 Arena in London, a protester entered the court and set his arm on fire during the match between Stefanos Tsitsipas and Diego Schwartzman.
After Tsitsipas took the main set, the dissenter strolled onto the court wearing a shirt that read "End UK Personal luxury planes" in capital letters. Subsequent to sitting inside the help box, he poured a fluid on his right arm and afterward set his arm ablaze with a lighter.
The protester eventually extinguished the fire by vigorously shaking his arm, but some of the liquid fell to the court and a small fire developed on the court surface, prompting a security guard to extinguish the flame with his jacket.
Subsequent to being taken out from the court, the dissident was briefly held by safety officers in a lobby by the court entry and he didn't seem to have experienced any huge wounds. The protestor is accepted to address Penance for Endurance, an environment crisis fight drive that recently saw its activists set themselves ablaze every day determined to stop trips between areas inside the Unified Realm.
The match was briefly paused after the protester's departure, as the court surface was cleared and Tsitsipas spoke with the umpire, ensuring that the court was in sufficient shape before agreeing to resume.
"I wanted to proceed with that match without having any minor changes to the court, and I wanted to make sure it's playable, especially that area," said Tsitsipas.
"It also got in my way in my viewing kind of experience of the court, the way I saw the court later. There was a big mark over there, and I wanted it to be cleaned up in order for me to proceed the way I did before."
Fights are normal at high profile tennis matches, including at the current year's Australian Open last between Daniil Medvedev and Rafael Nadal when dissidents jumped onto Bar Laver Field holding a flag that read "Cancel exile detainment". At the French Open, an ecological nonconformist joined herself to the net during the semi-last between Casper Ruud and Marin Cilic with wires and paste.
The Laver Cup, a Ryder Cup-inspired team competition that pits Team Europe against Team World, has showcased numerous players arriving in the UK by private jet, including Roger Federer and Novak Djokovic, during its pre-event promotions.
… as you're joining us today from India, we have a small favour to ask. Tens of millions have placed their trust in the Guardian's fearless journalism since we started publishing 200 years ago, turning to us in moments of crisis, uncertainty, solidarity and hope. More than 1.5 million supporters, from 180 countries, now power us financially – keeping us open to all, and fiercely independent.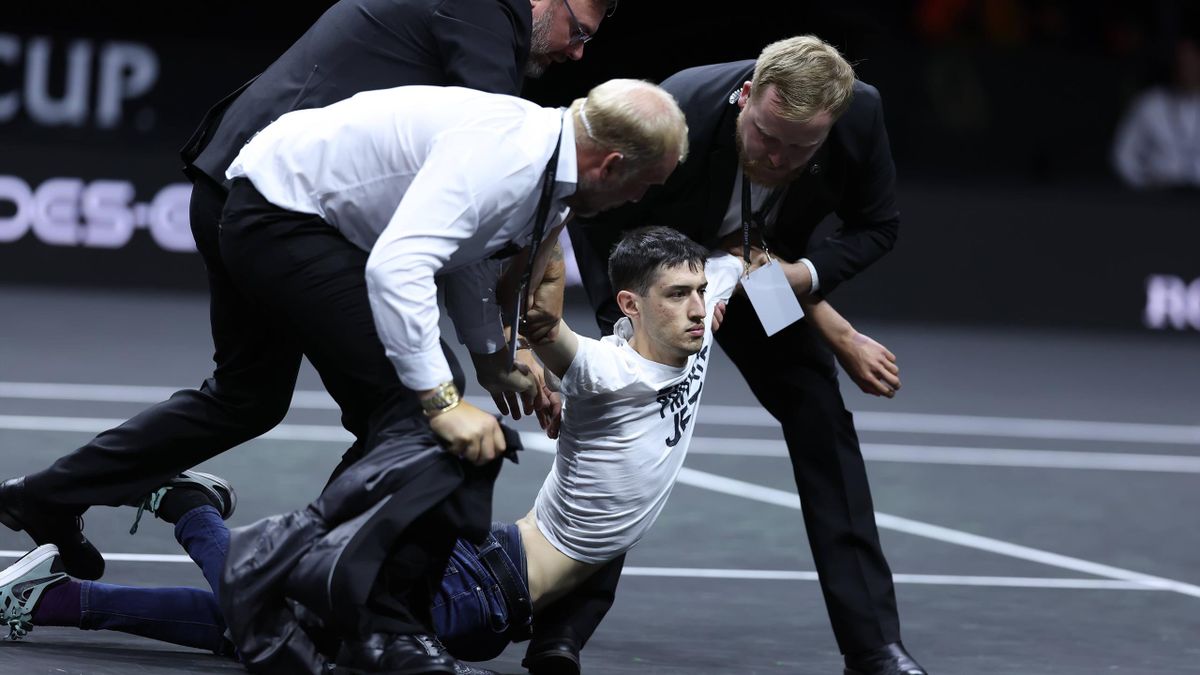 Dissimilar to numerous others, the Gatekeeper has no investors and no tycoon proprietor. Simply the assurance and energy to convey high-influence worldwide revealing, in every case liberated from business or political impact. Announcing like this is imperative for a majority rules government, for decency and to request better from the strong.
What's more, we give this to free, for everybody to peruse. We do this since we have confidence in data correspondence. More noteworthy quantities of individuals can monitor the occasions forming our reality, grasp their effect on individuals and networks, and become enlivened to make a significant move. Millions can profit from open admittance to quality, honest news, no matter what their capacity to pay for it.